The joint stock company Ergon has large office, manufacturing, and storage premises intended for lease. These premises, along with the premises used by the company, form a modern commercial and administrative center with a full infrastructure, including the latest phone central.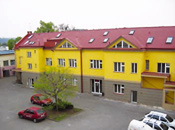 In all three objects of the center, a total of 10,000 m2 of useful area is available for external customers - of which 20% is intended for office use. Other areas are prepared for use as manufacturing or storage areas.
The premises can be flexibly modified in case of large-scale lease.
All information about the premises currently available and leasing fees is available at:

234 123 270 Ing. Filip Šestořád, Technical Manager
sestorad@ergon.cz

234 123 313 Ing. Radka Šafaříková, Chief of THS
safarikova@ergon.cz

234 123 346 Jan Hejduk
hejduk@ergon.cz

234 123 111 Operator
or you can pay us a personal visit at the following address:
ERGON a.s.
Papírenská 1
166 11 Praha 6
Along with attractive leasing prices, we can guarantee the provision of full services related to the use of the premises.
Lease of non-residential premises
najmy@ergon.cz