MEDICAL TEXTILES
---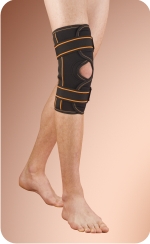 Medical textiles of the Ergon brand have in particular a therapeutic function. They are used after surgical procedures, as support for weakened muscles and ligaments, support for the cervical spine, during rehabilitation activities, and so on. They can also be used for prevention, for example during sport activities.
Our assortment of medical textile includes abdominal, lumbar, and hernial belts, bandages, fixation devices, fixation collars, rehabilitation, and other accessories.
Based on an examination by a specialist physician (see the VZP's list of codes), our products are reimbursed from the insurance plans by healthcare insurance offices in accordance with valid regulations. They are also sold over-the-counter.

TEXTILES

---

ABDOMINAL BANDS
LUMBAR BANDS
HERNIA BANDS
FIXATIVE AIDS
OTHER AIDS
ANTI-DECUBITUS AIDS
POSITIONING AIDS